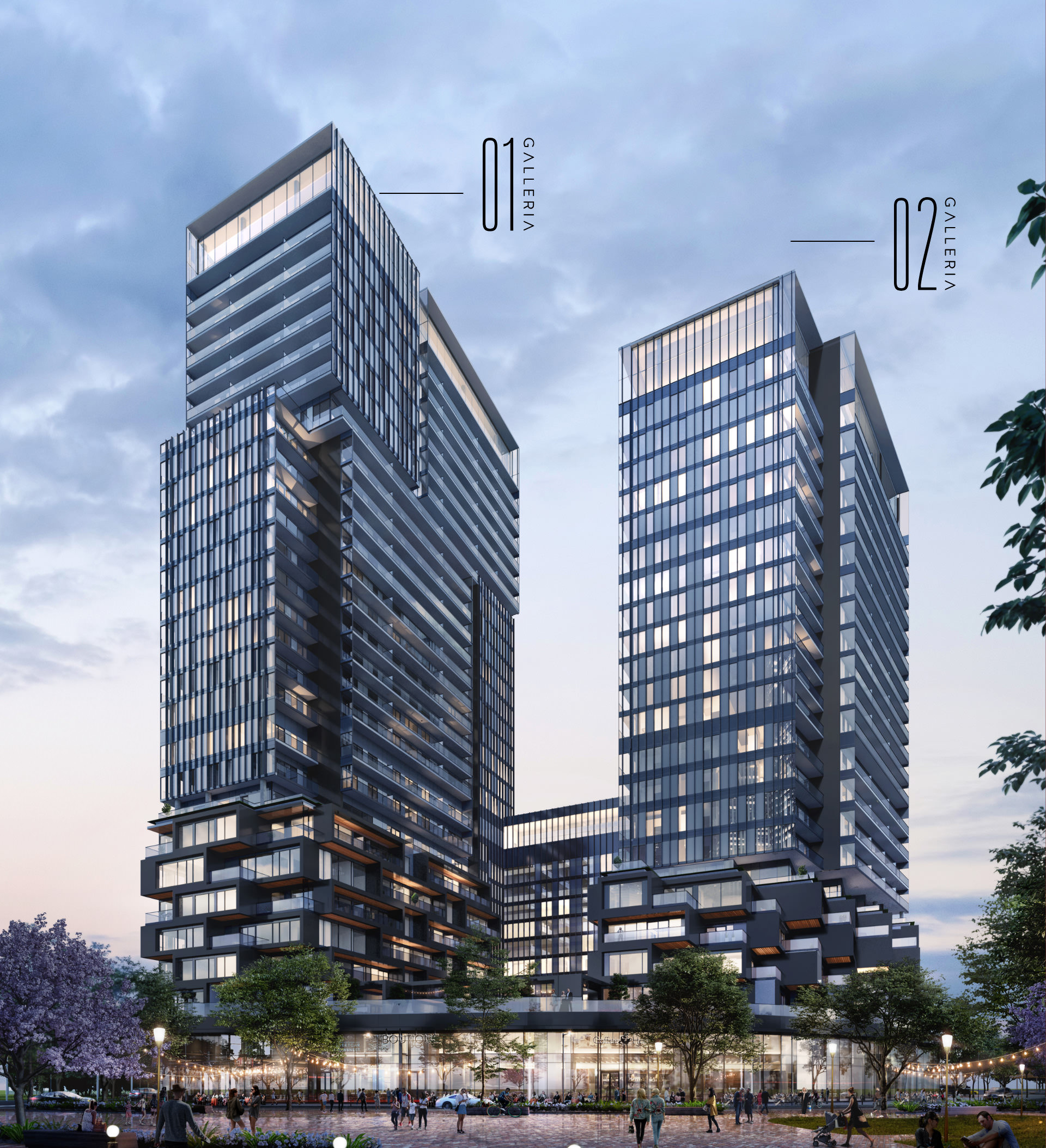 EXPERIENCE MODERN URBAN LIVING AT GALLERIA ON THE PARK
At Galleria 01 and Galleria 02, suites come in carefully considered studio, one-bedroom, two-bedroom, and three-bedroom layouts, with sleek features and finishes. For true convenience, residents can easily access the recreational amenities on the third floor and wellness amenities on the twelfth floor.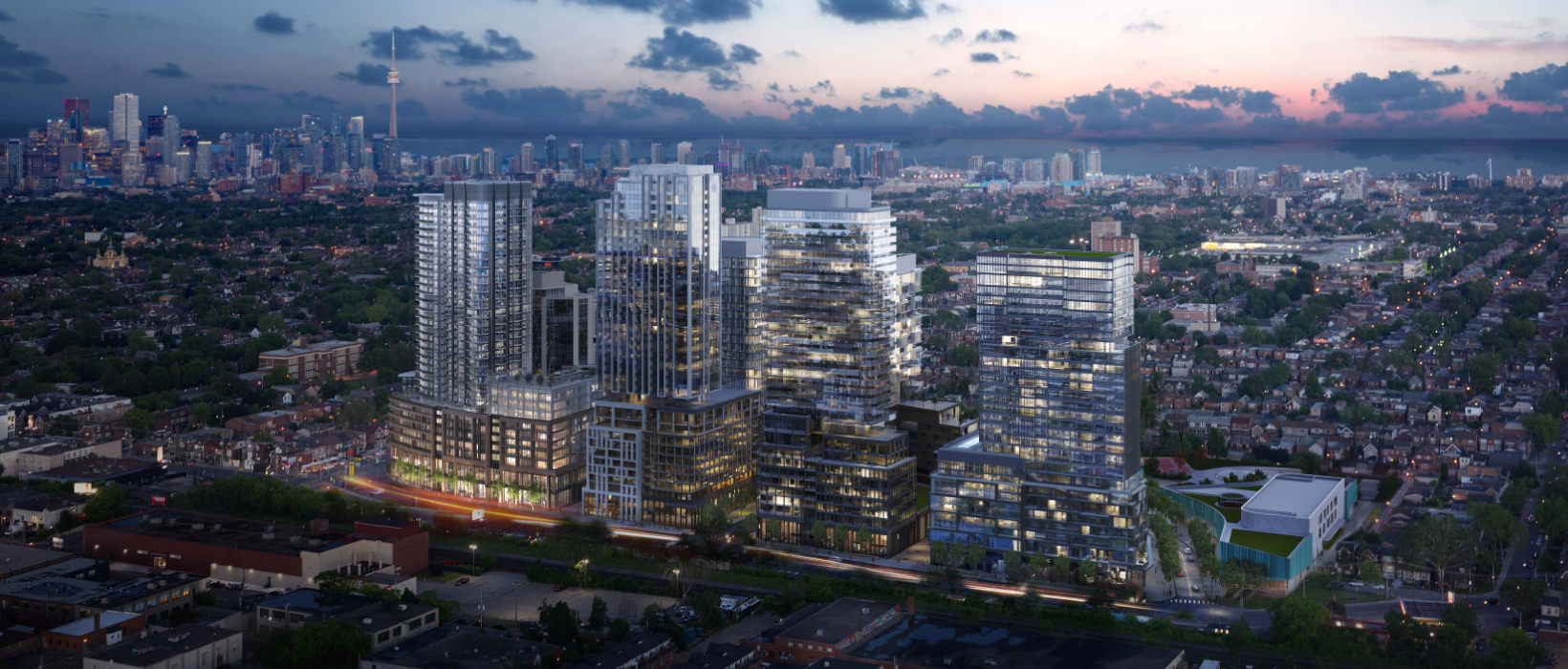 Remarkable
resident amenities
Discover unique spaces designed for a well-rounded lifestyle.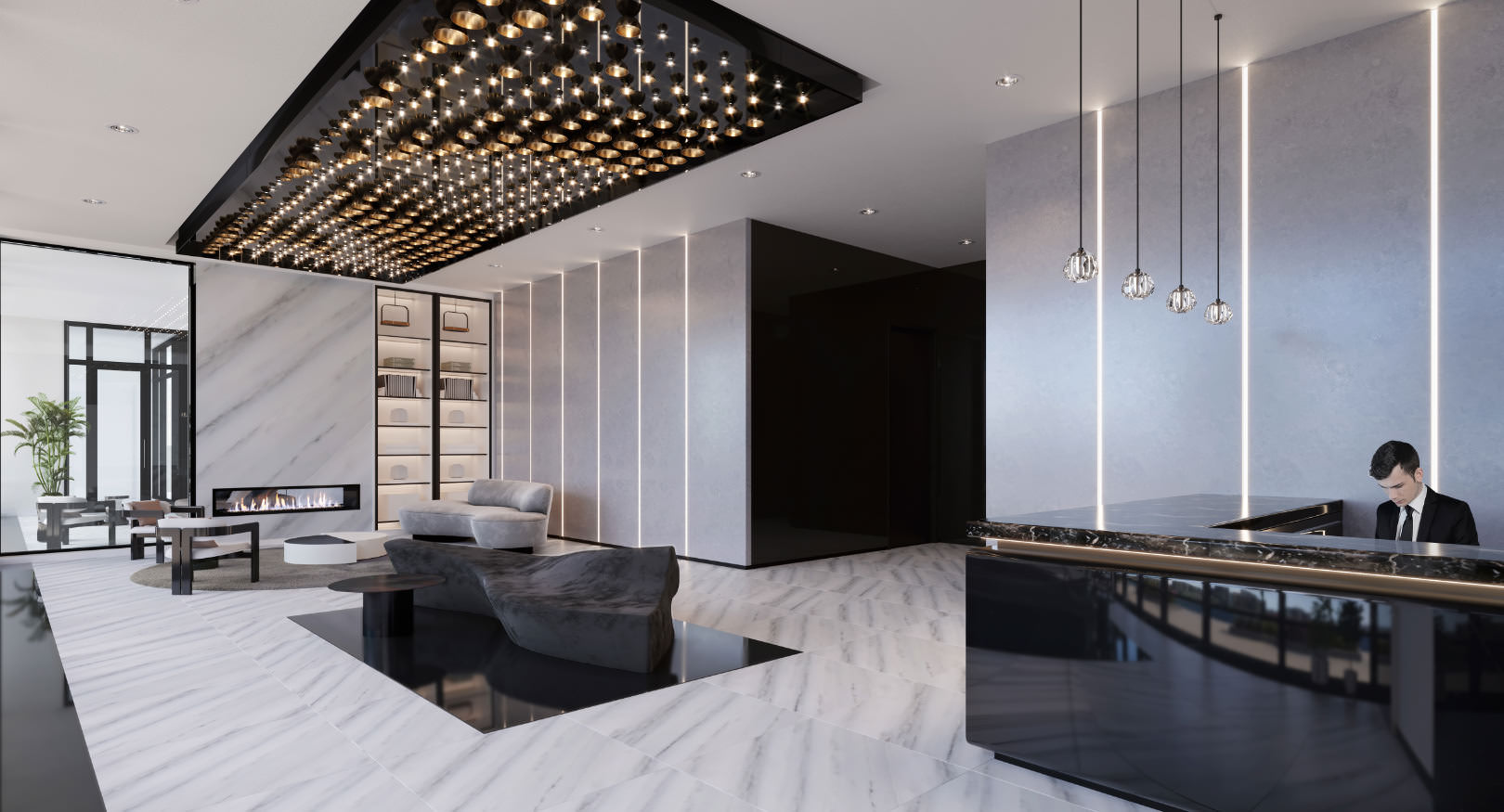 Galleria 01's welcoming Lobby
The black and white lobby of Galleria 01 encompasses hotel-style features such as a fireplace, sleek concierge area, lounge with contemporary plush seating — including an artist-inspired sculptural ottoman — and eye-catching, custom-designed lighting. This impressive entryway welcomes guests and encourages residents to meet friends there, catch up on emails, or relax before heading out.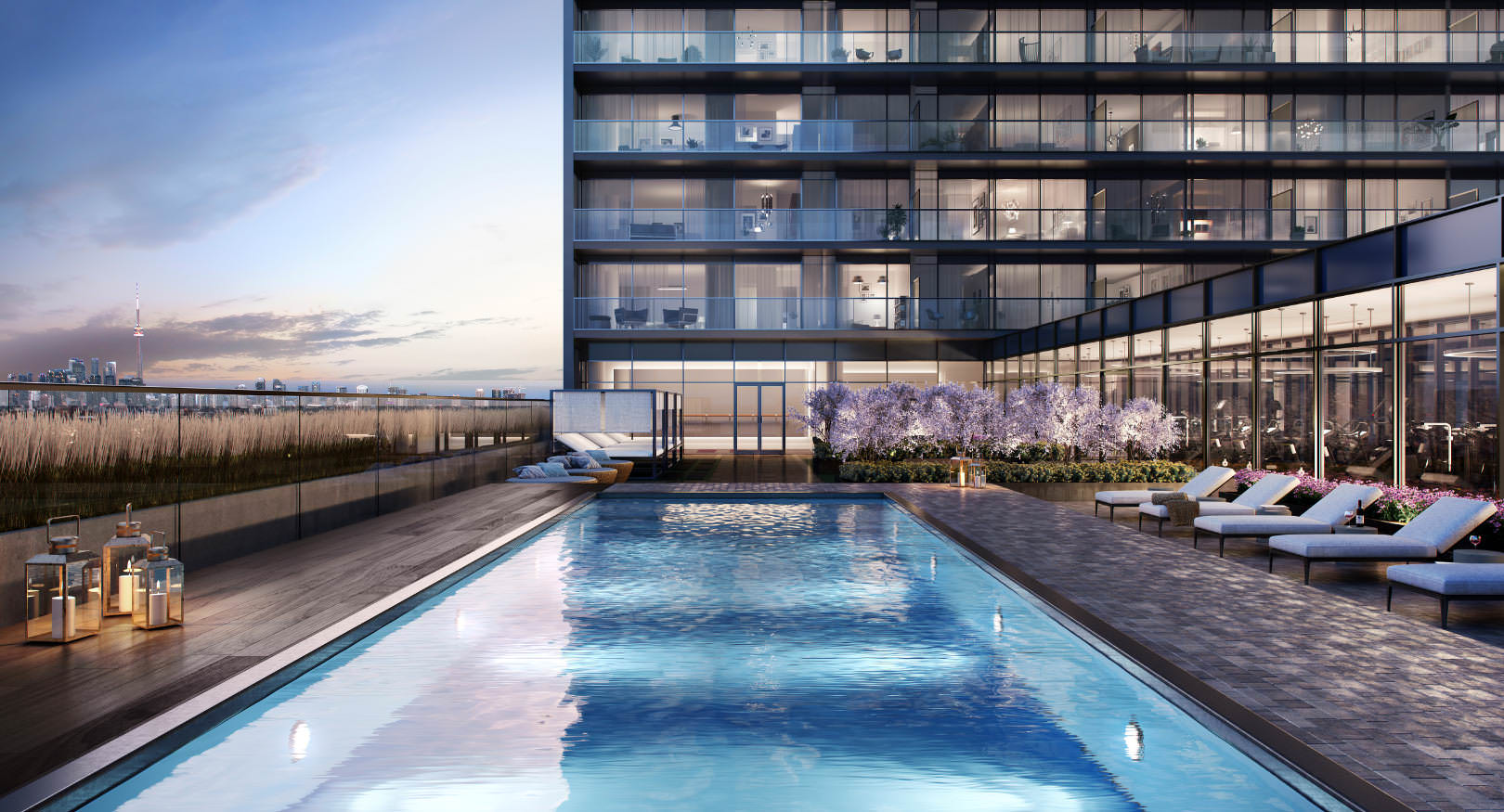 SWIMMING POOL
At the outdoor swimming pool deck, you can choose how to relax and unwind. Swim laps in the glistening clear water of the pool, lie back on the comfortable loungers, or alternate between both. However you spend your time there, the pool is a peaceful oasis where natural elements evoke feelings of serenity and relaxation.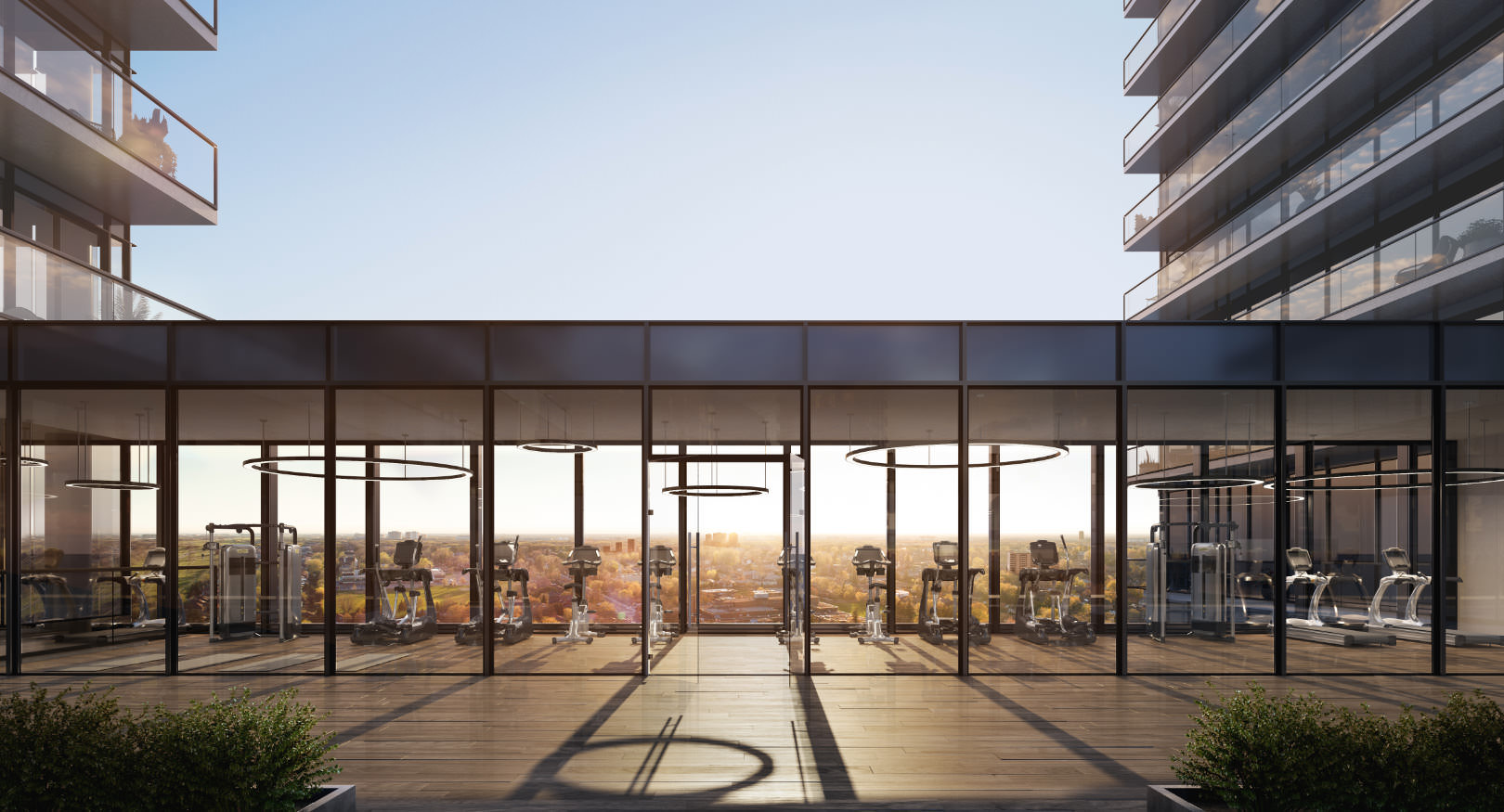 FITNESS ZONE
In the cardio area, whatever equipment you're using, you'll feel like you're floating above the park. Large multiple ring light fixtures create rhythm and can be seen from afar through the floor-to-ceiling windows. Inspired by the outdoor park, the design aesthetic reflects the neutral palette of the building. These elements are carried through into the yoga area, where you can stretch, strengthen, and enhance your physical and emotional well-being.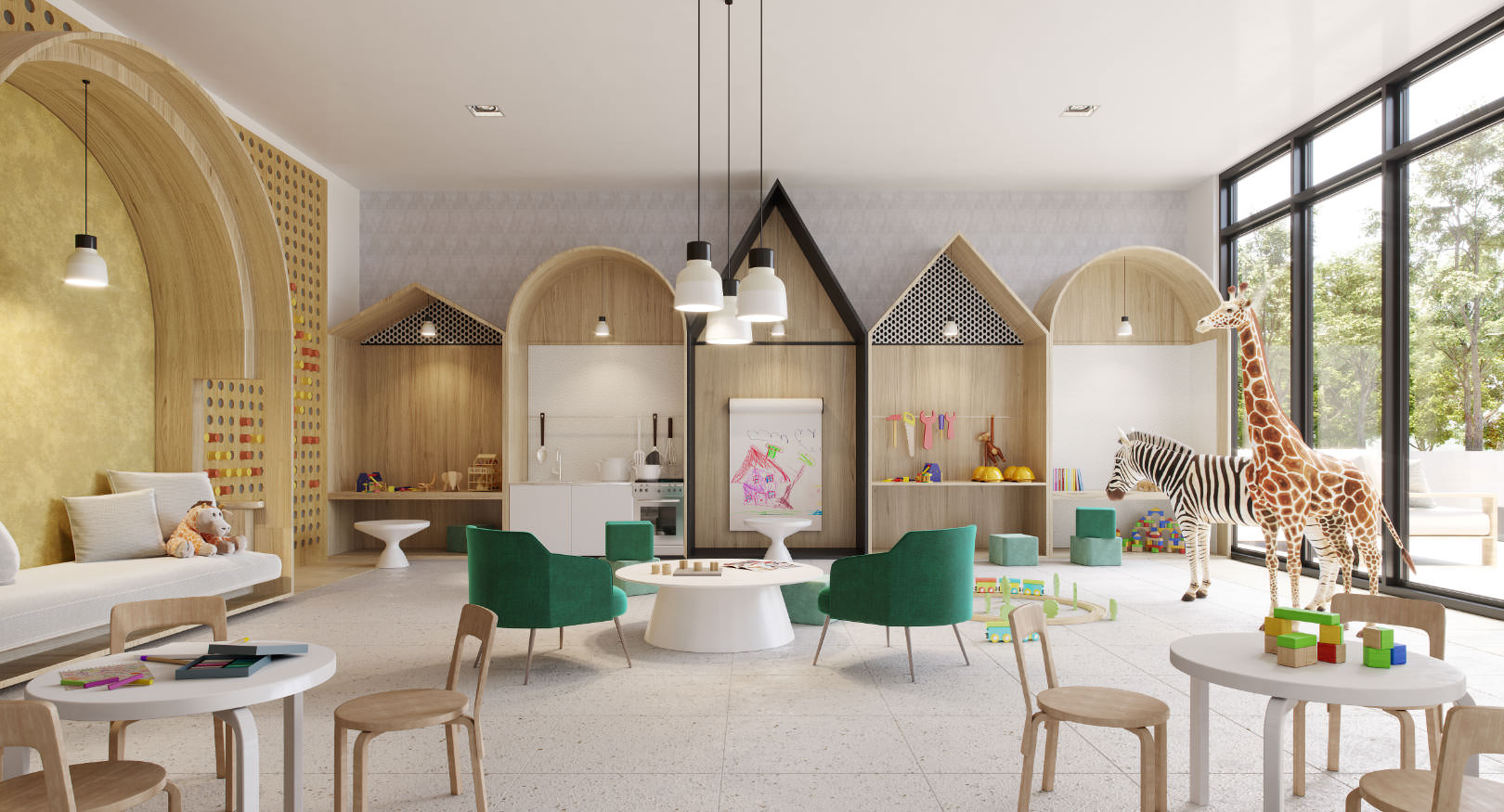 KIDS' PLAY ROOM
A bright, open and airy space on the third floor, the kids' play room is intended to inspire young imaginations, and provide a safe, fun recreational environment. Kids can look forward to playing in a bigger space outside their suite but conveniently located in the same building. Art niches, a peg wall,
cozy "fort," play kitchen and tool/construction structures promote play, and rubber and vinyl flooring create a softer feel underfoot and a safe place for active kids. A kitchen facilitates special events such as birthday parties.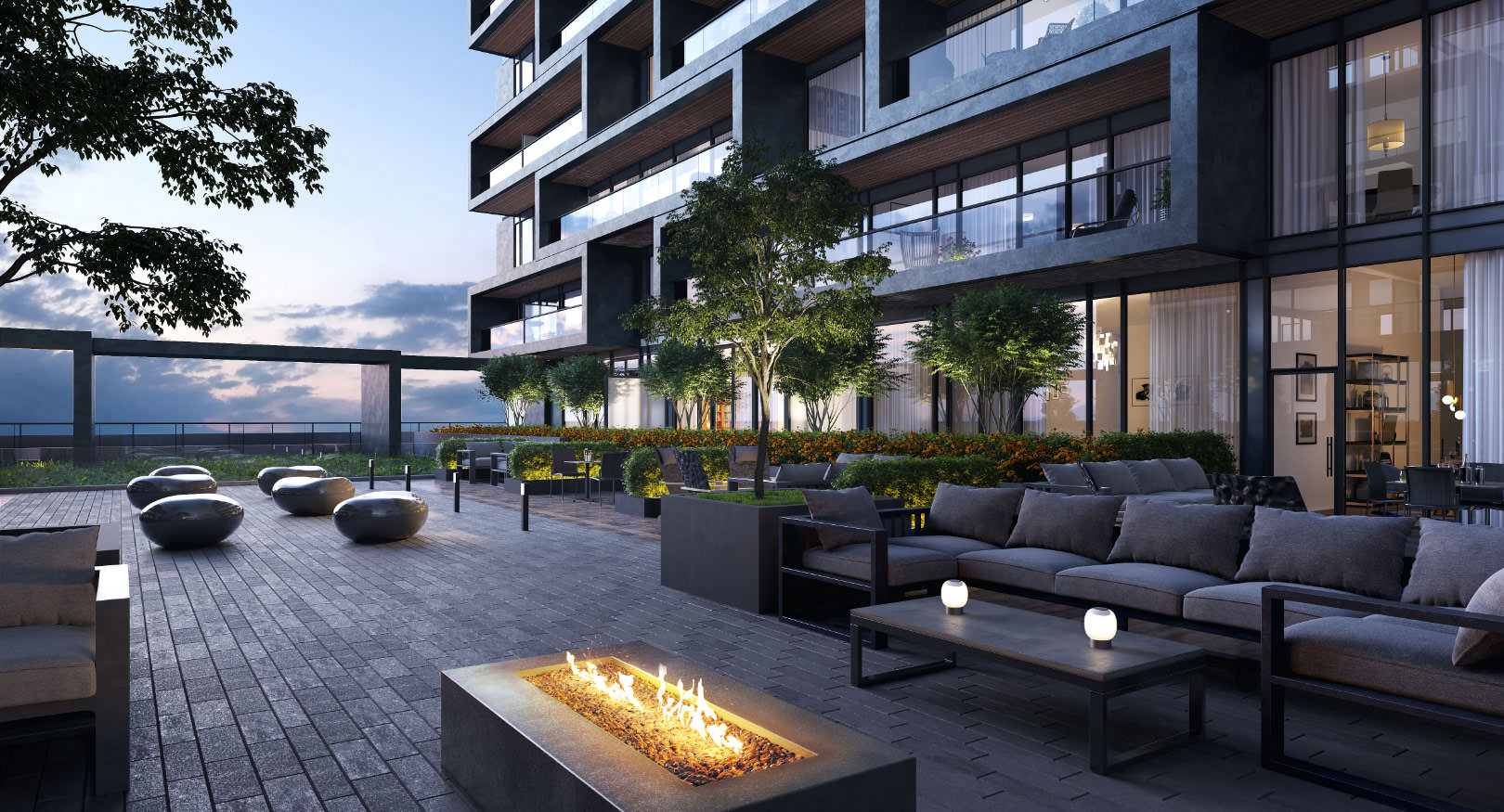 OUTDOOR TERRACE
Spend time relaxing alone or entertaining friends and family on the spacious outdoor terrace. It's designed to be a social hub, whether you're barbecuing something delicious for a casual get-together or hosting a dinner at the al fresco dining table. Either way, you'll feel at home amid the lavish landscaping and natural décor features that make this space feel like a private garden.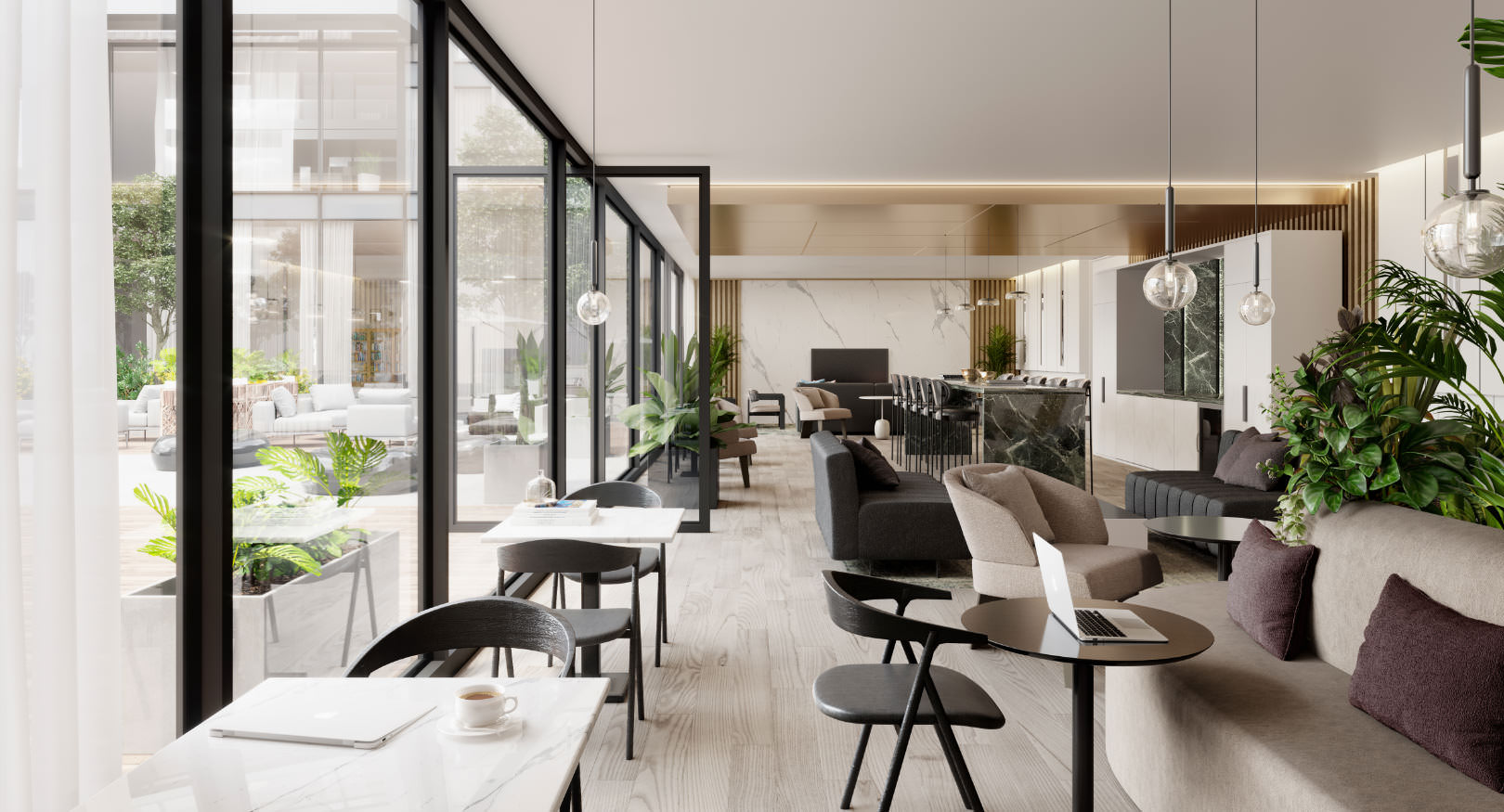 SOCIAL LOUNGE / CO-WORKING SPACE
This open and beautifully designed space can multitask as a lounge, social hub, and co-working area. Flexible designated tables and seating arrangements enable you to work outside of your suite. Continuing the neutral palette introduced in the lobby, white is predominant, and animated with eclectic furniture with brass accents. Natural materials such as white oak flooring, green marble accents and plants accentuate connection to nature.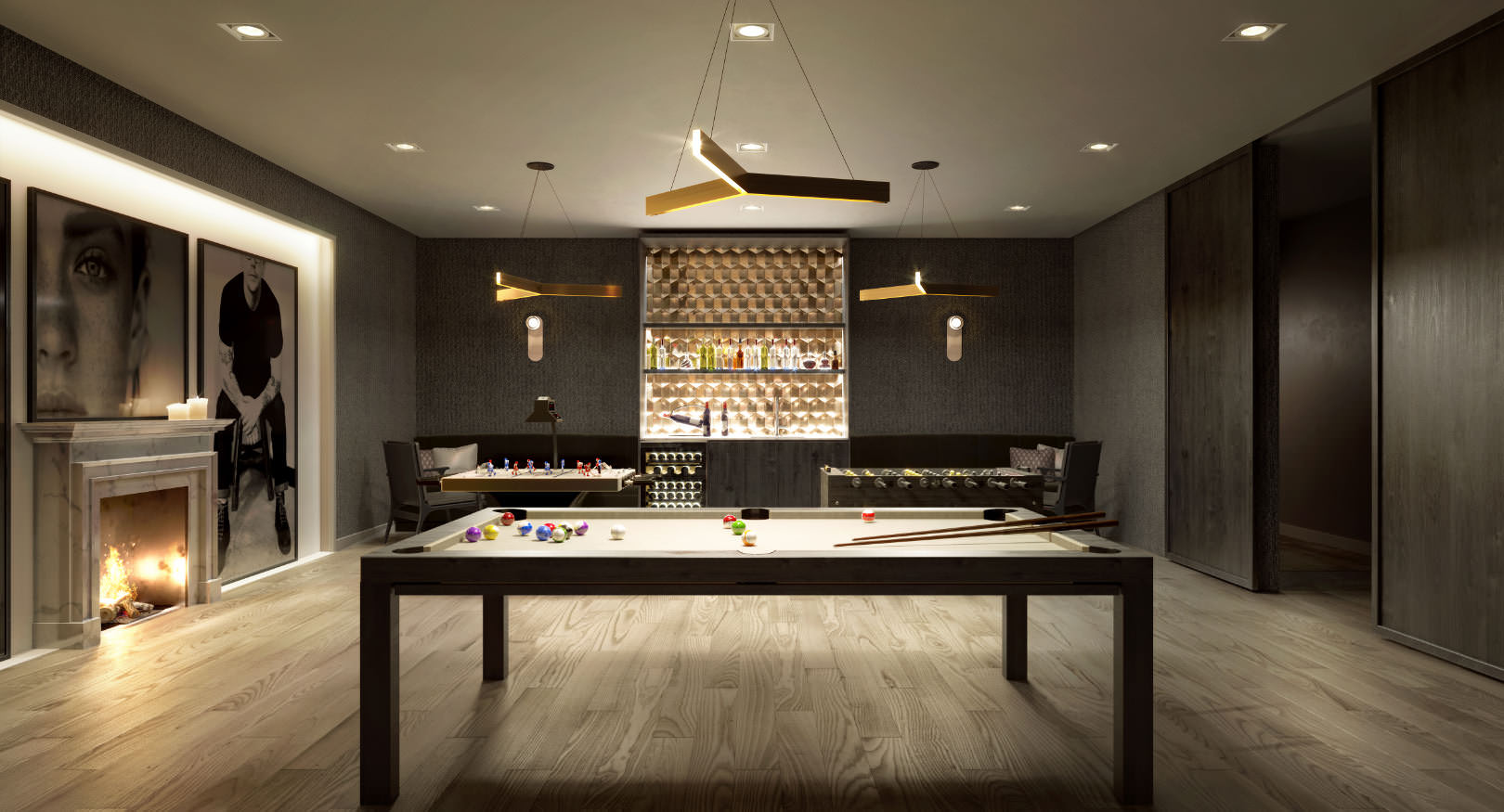 GAMES ROOM
Created to spark fun among residents of all ages, the games room takes a funkier, eclectic approach, with large black and white photos of characters who reflect the diverse demographic of the neighbourhood. A refined-industrial edge is articulated in furniture and lighting selections, but natural white oak floors keep it grounded in the building's overall aesthetic. The space includes billiards, foosball, and air hockey tables.
The two condominium towers, Galleria 01 and Galleria 02, will feature a host of spectacular amenities for residents to enjoy.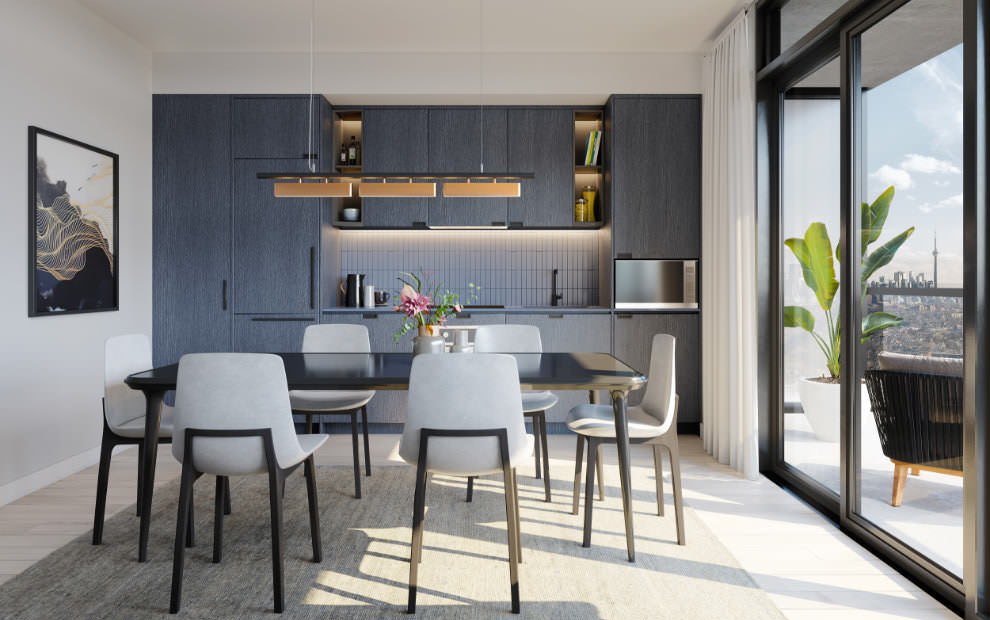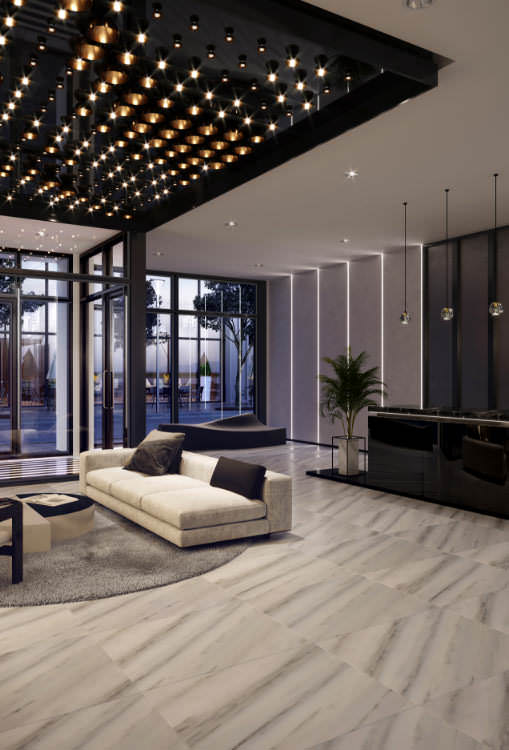 Brochure
Browse, Share and Download.